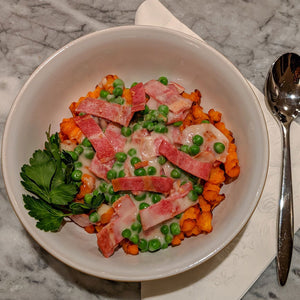 Butternut Squash Alfredo with Turkey Bacon & Peas
SERVINGS:

2

COOK TIME:

20 min

PREP TIME:

2 min

DIFFICULTY:

easy
 Ingredients:
4 slices turkey bacon
1 tsp. olive oil
360 grams cups butternut squash noodles (*

To make this lower in carbs, you can also use substitute zucchini noodles for butternut squash noodles)

1 cup frozen green peas
1 cup light creamy alfredo (I use the Classico brand that is 35 calories per 1/4 cup - 2g fat, 3g carbs, 1 g protein per serving) 
Instructions:
Follow the instructions on the turkey bacon and cook all 4 pieces until crispy. Slice or chop into small pieces.
In a medium pan, heat the olive oil.
Add in the butternut squash noodles and put a lid on the pan. Cook for about 5 minutes over medium heat mixing occasionally.
Add in the frozen peas and cook until defrosted and warm throughout. This will also allow your butternut squash noodles to finish cooking.
Mix in the alfredo sauce and sprinkle with turkey bacon.
Increase the protein of this meal by adding pulled or baked chicken or your preferred source of protein.
Nutrition information per serving:
Fat 12 grams
Carbs 33 grams
Protein 10 grams